Leather Collars
Please note that these are Martingale-style collars. They are specifically designed for Sighthound breeds such as Greyhounds, Whippets, Saluki, etc. They are specially designed to fit dogs with slender heads who would be able to duck out of other collars. They will not fit most non-sighthound breeds.

Each collar is handcrafted to order. Please allow at least four weeks for delivery unless otherwise noted in the item's description.
---
Standard Leather Martingale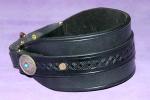 Our standard in leather martingales, this collar is built using top-quality materials and meticulous attention to detail.
Build your own combination of colors, stamping and conchos. You can create your own "custom" design just the way you want it. Y...
---
Small Leather Martingale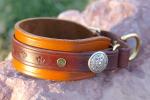 These collars are designed for smaller sighthounds, and can be made to fit small Greyhounds, Italian Greyhounds and Whippets, among others. The collars are semi-adjustable in 1/4" increments for 1" total adjustment. Small martingales are 1.5" overall in...
---
Celtic Knotwork Hounds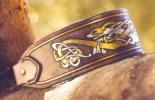 The Celtic Knotwork Hounds martingale collar features a traditional zoomorphic knotwork design of two hounds. Available in antiqued black highlighting the knotwork, or antiqued black background with the knotwork and border painted in metallic gold, silver ...
---
Heart of Texas Small Martingale Collar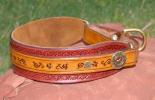 The Heart of Texas collar is dedicated to the wonderful adoption groups of Texas, who deal with the costs of not only taking in track greyhounds, but also the high number of strays who incur high veterinary costs. $35 from each of these collars sold will b...
---
Sonoran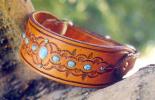 The Sonoran model uses a combination of western-style stamping and gemstones to create a very dressy collar with a southwestern flair. This collar is available in Antiqued Tan with Turquoise gemstones, Antiqued Tan with Malachite gemstones, Antiqued Black...
---
Spots and Spikes Collar

Sometimes, you just want something that makes a statement. Well, these collars definitely will do that.
These collars are available in either black and silver or mahogany and brass, in either a 2" or 2.5" width and with 1" spikes, or 1/2" diameter spot...
---
Steampunk: Plates and Valves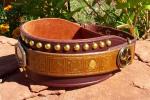 A Steampunk-inspired design of plates and valves.
---