Small Leather Martingale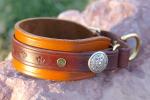 These collars are designed for smaller sighthounds, and can be made to fit small Greyhounds, Italian Greyhounds and Whippets, among others. The collars are semi-adjustable in 1/4" increments for 1" total adjustment. Small martingales are 1.5" overall in width, with a 3/4" wide center strap.
The prices listed are for collars sized from 8 to 14 inches in circumference. If your dog requires a larger collar, please look at our collars for standard-sized sighthounds above.
The collar shown has a tan main band, a mahogany center strap with Fleur de Lis stamping, and the Diable conchos.
How to Measure for Your Collar.
Center Strap Stamping Examples
Price: $60.00