Standard Leather Martingale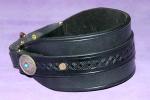 Our standard in leather martingales, this collar is built using top-quality materials and meticulous attention to detail.
Build your own combination of colors, stamping and conchos. You can create your own "custom" design just the way you want it. You have a choice of 2" or 2.5" overall width, with a 1" wide center strap.
Note that if the size is under 14", please look at our small sighthound models below.
The collar shown is a 2.5" black main band with a plain edge, a black center strap with diamond stamping, and the Mesa conchos.
How to Measure for Your Collar.
Center Strap Stamping Examples
Embossing vs. Stamping: Stamped designs are created by individually stamping elements by hand. Typically, the stamp is around 1/4" to 1/2" in size. Long patterns made by stamping are done by butting each stamp against the previous impression, one at a time. Embossing is performed by pressing the design into the leather using a roller-press. Embossing is faster, thus less expensive, but is not as sharp as a stamped design.
Price: $70.00