Celtic Knotwork Hounds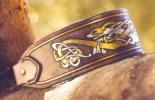 The Celtic Knotwork Hounds martingale collar features a traditional zoomorphic knotwork design of two hounds. Available in antiqued black highlighting the knotwork, or antiqued black background with the knotwork and border painted in metallic gold, silver and copper. The reinforcing rivets at the ends of the band are of solid copper, with domed heads. The collar is 2" wide (1-1/2" for collars under 15"). This design is only available for collars 13" or larger.
How to Measure for your collar.

Price: $110.00