How to measure a Sighthound for a collar
These instructions apply when measuring a sighthound or other breeds with narrow heads for slip-over and martingale style collars. These instructions do not apply for breeds where the collars are buckled or snapped.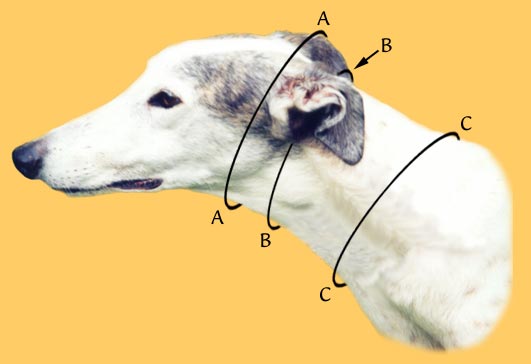 Measurement A: This is the widest point of the dog's head. When you think you have the right place, grasp the tape firmly at the overlap and slide it over the dog's head. Make sure you have the widest point.
Measurement B: This is the narrowest point of the dog's neck, usually just behind the skull.
Measurement C: This is the place where you would like the collar to rest. Normally this will be mid-way down the neck of the dog.
The actual size of the collar is determined by the larger of the "A" and "C" measurements, with the "A" measurement being the absolute minimum size of the collar. The difference between the size and the "B" measurement is used to determine the control loop size on martingale-style collars.
These measurements are best done with a cloth tailors/seamstress' tape measure. Do not use a steel carpentry-type tape measure. If you do not have a cloth tape, cut paper into 1" wide strips and tape together until you have sufficient length (2 pieces are usually enough). When using the paper tape, wrap it around the point you are measuring, and mark where it overlaps. Then lay flat and measure the length to the mark.
When measuring, pull the tape until it lays firmly on the dog's skin, but do not pull tight. You should be able to slip a finger between the tape and the skin.